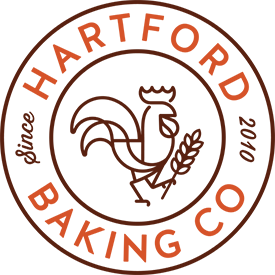 Fresh, Local, Made-From-Scratch
Local
As a bakery in CT, we believe in starting with great ingredients and taking the time to perfect our products. From our
breads
to our
coffee
, everything we produce is hand-crafted with patience and attention to detail. Every morning, our bakers and pastry chefs mix and bake everything from scratch to make sure you're getting the freshest product possible.
Fresh
Why get frozen bread from some factory out of state? We want to reintroduce people to the freshness of locally-made products here in the Hartford area. Working with local farms, we aim to source as many of our ingredients from the surrounding area as possible.
Fresh = Local.
Made-From-Scratch
In an industry obsessed with convenience and speed, we decided to go in the other direction. Instead of thaw-and-serve muffins or par-baked breads, we make all our baked goods from scratch right before we sell them. It's not as easy and it costs us more, but that's the only way we'd ever do it. That's our dedication to quality!
Find Us:
Our flagship retail location is 625 New Park Avenue (Unit G of the New Park Commons), West Hartford, CT. We're just one mile from Interstate 84 (exit 40 or 44).
And our newest location is 965 Farmington Avenue, West Hartford, CT; In West Hartford Center.
Store Hours
New Park Ave (Elmwood)
(860) 481-7876
Monday–Friday: 7:30am – 5:30pm
Saturday: 7:30am – 5:00pm
Sunday: 7:30am – 3:00pm
Farmington Ave (West Hartford Center)
(860) 724-4169
Daily: 7am – 7pm